Upper Agora
View looking northwest across the Upper Agora—the paved area that dominates the lower portion of the image. The Upper Agora already existed in the early third century B.C. but its present shape dates to the reign of the emperor Augustus (27 B.C.–A.D. 14). It was refurbished multiple times during the Late Roman Period.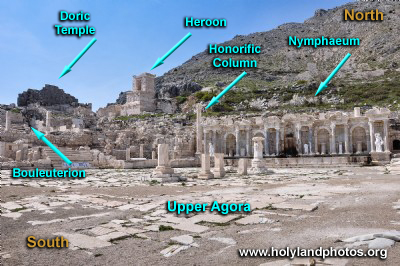 Moving from right to left the following monuments are visible: the Antonine Nymphaeum; steps leading up to the Bouleuterion (Council Hall); above it the black Doric Temple; and the Heroon.
To view an artists reconstruction view from the area Click on the image below.