Photo Comments
View of the Roman Bridge located along the Via Sebaste 32 mi. [52 km] west of Konya (Iconium) and east of Yunuslar.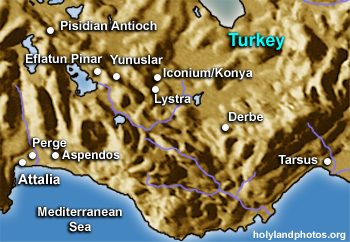 The well-preserved bridge is part of the Via Sebastia that led from Perge on the coast to Pisidian Antioch and from there to Iconium and eventually Lystra. The road was constructed in 6 B.C. It is very probable that Paul passed though this area at least four times—twice on his first journey and then also on his second and third journeys.
Mark Wilson, Biblical Turkey — A Guide to the Jewish and Christian Sites of Asia Minor. Istanbul: Yayinlari, 2010, p. 170.