Photo Comments
Detail of the doorway that is the entrance to Tunnel IV that leads to the famous "Hezekiah's Tunnel." This may have been the original starting point for Hezekiah's Tunnel!
To the right of the doorway is a carved frame of an inscription that Gershon Galil claims to have read and translated.
Siegel-Itzkovich, Judy, "Proof of biblical kings of Israel, Judah deciphered on Jerusalem rock inscriptions. The Jerusalem Post. December 16, 2022—an Online Article.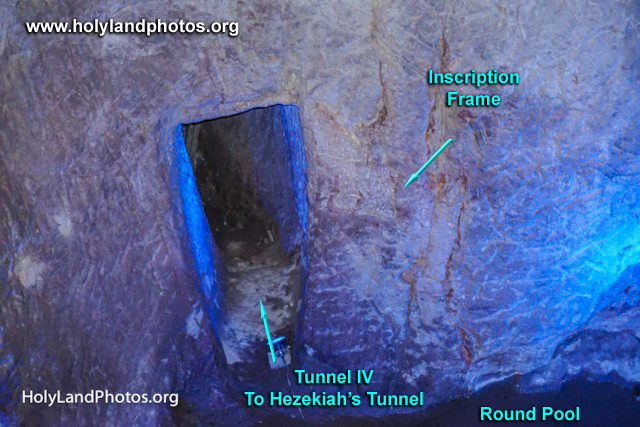 For an "overview" of the pool where this is located See Here.
---
For a popular presentation of their finds see Reich, Ronny, and Shukron, Eli. "Light at the End of the Tunnel: Warren's Shaft Theory of David's Conquests Shattered." Biblical Archaeology Review, vol. 25, no. 1 (January/February, 1999):22–33, 72.
And for recent interpretations see:
Shanks, Hershel. "Will King Hezekiah Be Dislodged from His Tunnel?" Biblical Archaeology Review vol. 39, no. 3 (September/October, 2013): 52-61.