Photo Comments
View looking down on the stones that formed the foundation of the Temple of Apollo. This temple measured 47 ft. by 27 ft. [14.2 m. by 8.2 m.]. North is at the top of the image. It contained a statue of Apollo and the sacred spring. It was here that the priestess received her revelations that were interpreted by a priest for those who were consulting the oracle. Note in the upper portion the outline of a well.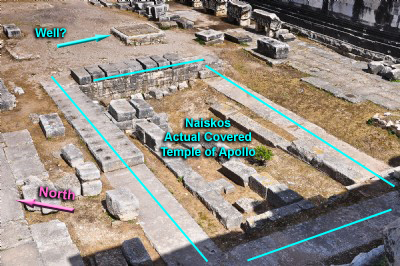 For a more general view of the interior of the temple Click Here.
For a map and descriptive comments about Didyma Click Here.