Photo Comments
View from above looking down on the Temple of Apollo.
The interior of this temple (Adyton) measures 175 ft. by 70 ft. [53.5 m. by 21.5 m.]. The interior walls were originally more than 72 ft. [22 m.] high. The Adyton was OPEN to the sky!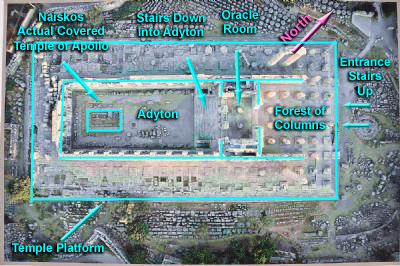 The priests would have received the requests of the worshipers at the top of the stairs in the Chresmographeion (Oracle Room) and would have descended the stairs into the courtyard (Adyton) and would have proceeded to the actual Temple of Apollo that was situated in this courtyard.
The naiskos was the actual Temple of Apollo (which was roofed) and measured 47 ft. by 27 ft. [14.2 m. by 8.2 m.]. The naiskos contained a statue of Apollo and the sacred spring. It was there that the priestess received her revelations that in turn were delivered to and interpreted by priest for those who were consulting the oracle. The the priest would have returned to the Oracle Room to deliver the "answer" to the inquirer.