Aizanoi
Aizanoi (Aezani, modern Çavdarhisar) is a site that is located 170 mi. [273 km.] southwest of Ankara (as "the crow flies").
Aizanoi is a very large Roman site located on the banks of the Penkalas (today Kocaçay) river, a tributary to the Rhyndakos.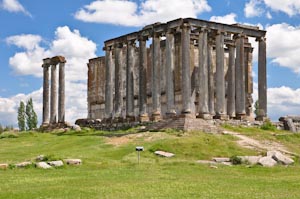 One of the best-preserved temples of the ancient world is located there as are the impressive remains of a stadium, theater, bathhouse, meat market, etc.
Dr. Mark Wilson states that "Paul probably passed through the Greco–Roman city of Aizanoi while passing through Mysa on his second journey to Troas (Acts 16:8)" Biblical Turkey — A Guide to the Jewish and Christian Sites of Asia Minor, p. 161.