Photo Comments
View looking east at the eastern end of the Mithraeum at Caesarea Maritima. "Benches" are located along the left (north) wall, the "altar" at the far end, AND in the upper portion of the image a widow-like opening in the vault.
The window in the vault allowed sunlight to fall on the worship center specifically at noon on 21 June—the time of the summer solstice!
Note also the remnant of plaster on the right (south) wall of the structure.
For a detail of the altar area Click Here.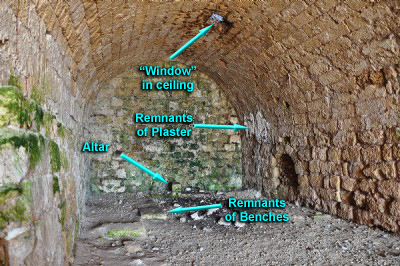 To view a useful diagram of this area Click Here.