Photo Comments
Image of a marble medallion discovered by Robert Bull during the excavation of the Mithraeum at Caesarea Maritima.
In the upper portion of the medallion, the god Mithras slays the bull (note the knife) releasing the "life force ... in its blood into the world."
The lower portion may depict worshippers being covered by this life-giving blood—but there are other interpretations.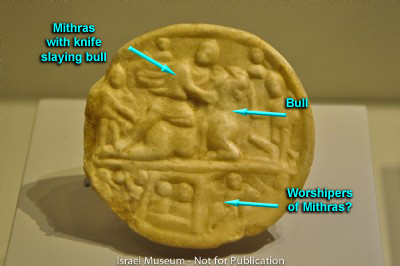 For a popular and a scholarly presentation by the discover of this medallion Robert J. Bull please see:
Bull, Robert J. "Caesarea Maritima: The Search for Herod's City." Biblical Archaeology Review vol. 8, no. 3 (1982): 24–40.
Bull, Robert J. "The Mithraeum at Caesarea Maritima." Acta Iranica vol. 4 (1975): 75–89.