9 Day Bible Study Tour of Greece — May 2023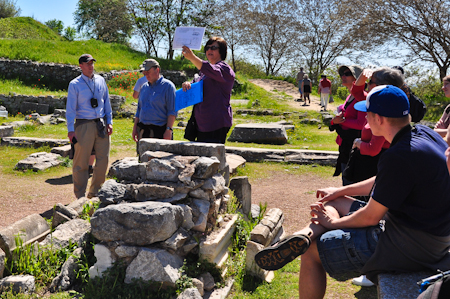 Greetings! In May 5–13, 2023 Mary and I will be leading a 9-day Bible Study Tour of Greece.
Our Bible Study Tour will begin in Philippi, where the "Good News" was first preached in Europe. We will visit biblical places such as Thessalonica, Berea, Athens, Corinth, and Cenchrea—as well as World Heritage sites such as a monastery in Meteora and Delphi. We will stop at the beautiful museum that contains lavish gold artifacts from the tomb of Philip II, the father of Alexander the Great.
I will be giving mini-lectures along the way both on the bus and on the sites, drawing from my studies. I have spent 16 years of my adult life living in, and guiding, academic groups in Israel, Jordan, Greece, and Turkey (including living, teaching, and guiding in Jerusalem for 7 years).
Tour Dates and Cost: May 5–13, 2023. Cost: $3,1990 per person in Double Occupancy; add $500 Single Room supplement; Includes roundtrip airfare from major US cities to Greece and return.
For an Itinerary and additional information contact us soon (2foot.steps.tours+HLP@gmail.com).
You are invited to join us!
Carl and Mary Rasmussen
PS This trip is proceeded by a Bible Study Tour to Israel/Jordan and one to Turkey—you are welcome to join one or both of these!
---
I am Professor Emeritus of Old Testament at Bethel University in St. Paul, Minnesota. I received my Ph.D. in Ancient Near Eastern Studies from Dropsie University. Currently, I am an adjunct professor at the Jerusalem University College in Jerusalem and Bethel University in St. Paul, MN and have served as a consultant for a publisher and several media organizations.
In 2010 Zondervan published a new, updated version of my Zondervan Atlas of the Bible. Lavishly illustrated, the new version has been updated in every way including new maps, pictures, graphics and updated text. In 2013 Zondervan published my Zondervan Essential Atlas of the Bible. In addition, I maintain the website www.HolylandPhotos.org which features over 5,000 free, high quality and high-resolution images of Israel, Turkey, Greece, Jordan, and Italy.